What is Overnight Mac and Cheese?
Overnight Mac & Cheese is a "make ahead" mac and cheese recipe that was published in Ina Garten's Modern Comfort Food cookbook. After this recipe was published, home cooks around the country started talking about it online, on daytime tv, in magazines and everywhere in between. Simply put, the ratings have been all over the place making it a superbly controversial Ina Garten recipe because she is known for nothing but 5 star review recipes and this was not.
While some reviews of this overnight mac and cheese recipe have been stellar, some have been terrible, which actually intrigued me, but also discouraged me from making it. But I have to admit, the idea of using less pots and making it advance was exceptionally appealing. So despite the controversial reviews I decided I had to try it for myself, and see once and for all, what this recipe was all about.
First Impressions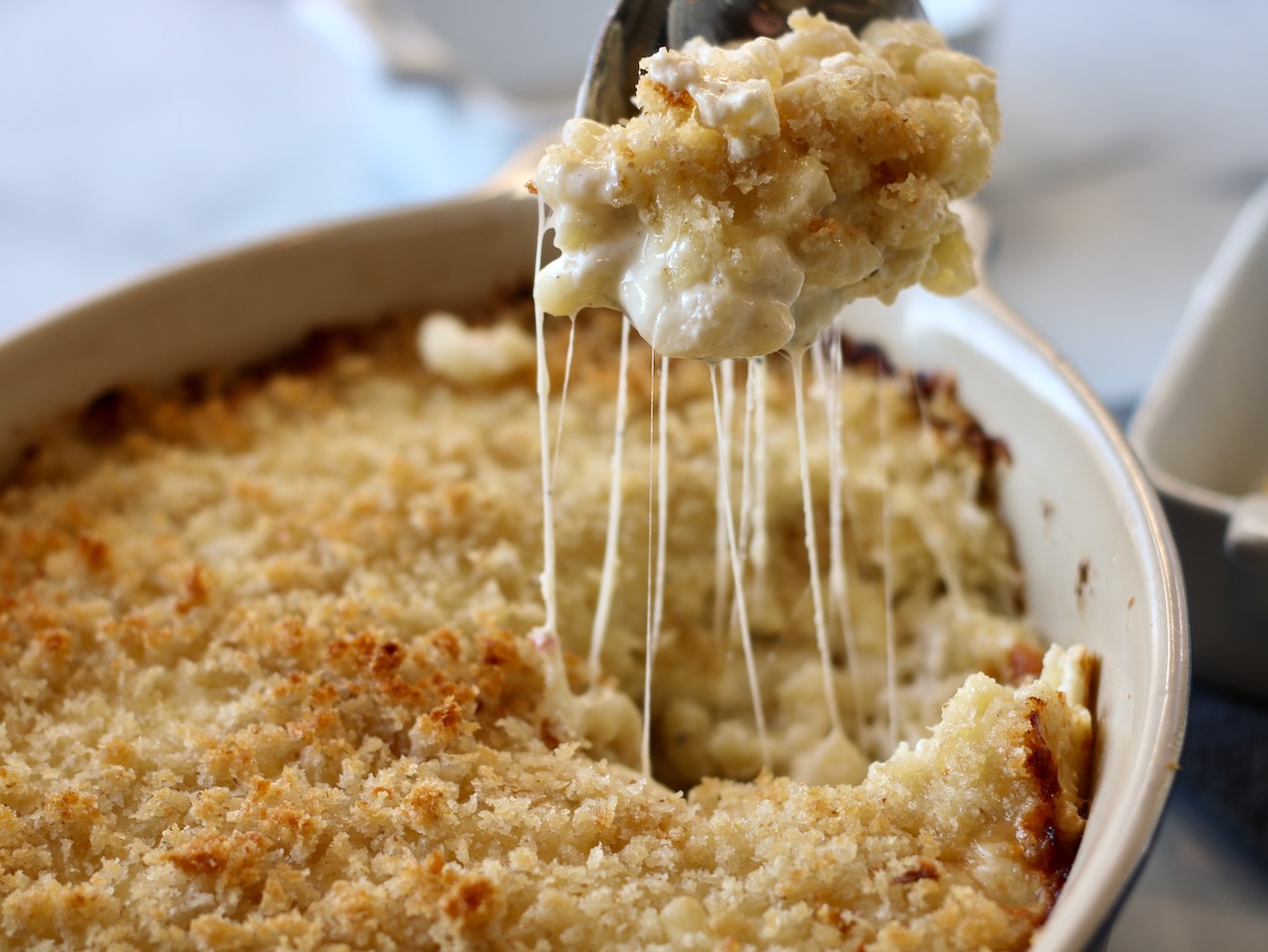 "Wow! Wow, wow, wow! This is damn good Mac and Cheese!" That is what went through my head (and my tastebuds) after taking the first, cheesy bite! However, after making it more than once, I can tell you exactly how easy it could be to mess this recipe up. I'm here to tell you how to avoid making some rookie mistakes so you can easily count on this recipe to deliver on some serious "wow" factor results.
What is the difference between Ina's overnight mac & cheese and Ina's classic mac & cheese?
The main difference between Ina Garten's Mac & Cheese Recipe and Overnight Mac & Cheese Recipe is the use of a Roux. Classic Mac and Cheese recipes rely on a roux (equal parts fat and flour) as the base to the cheese sauce. A Roux helps to thicken and bind the cheese sauce, so it's a pretty important part of any cheese sauce recipe. However, in this Overnight Mac & Cheese recipe, it skips the Roux entirely. Ina Garten is relying on the natural starch in the pasta to thicken the sauce. It goes against everything any cook has ever been taught about how to make Mac & Cheese, and this alone makes the recipe innovative and intriguing.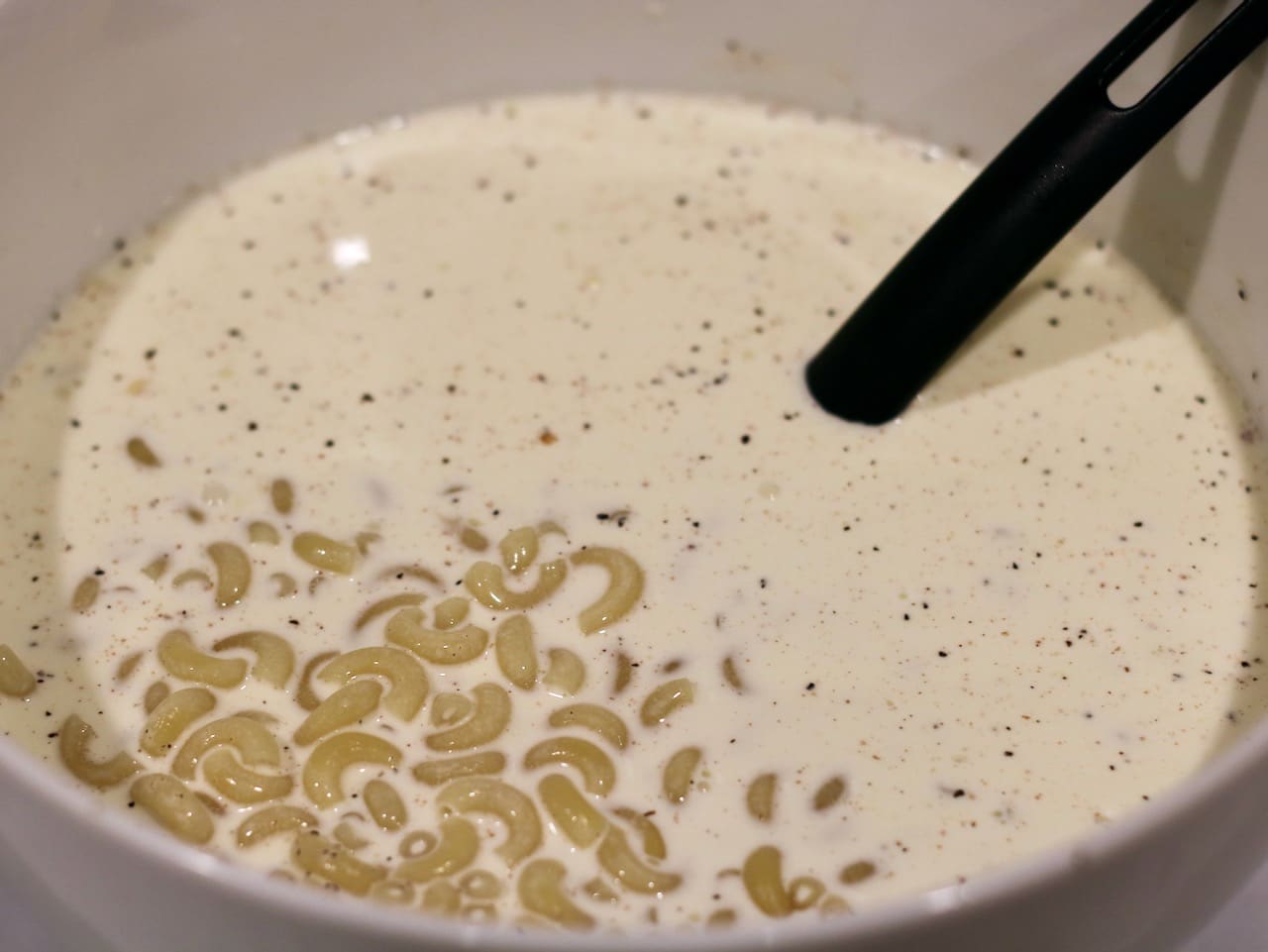 Ok, so no roux- just the pasta & cream sitting together doing their thing for 24 hours. What else is different? Well, it's a lot less mess! The original recipe requires a pot for pasta water, a pot for the cheese sauce, and a pot for warming the milk. This recipe requires just the pasta water pot and the bowl it will eventually sit in overnight. Thats it! No pile of pots, no flour mess, no overheated milk stuck to the edge of the pan. This is a pretty big plus from a home cooks point of view.
About Ina Garten's Original Mac & Cheese
This recipe follows a very traditional approach to a baked Homemade Mac & Cheese. If you want to introduce other ingredients such as broccoli and chicken, or truffle and mushrooms, the classic recipe is going to hold together better. This is because of the Roux. However, the flip side of that is that if you are a beginner cook, you probably have no idea how to make a Roux! (But it's pretty easy so don't be scared. The Food Network has a good article and video on How to Make a Roux that is really helpful for beginners.)
The Roux also helps the dish resist "breaking" as fast and thats really important. The culinary term of "Breaking" is used when oil visibly separates from the rest of the dish. The fats separate from the solids and you end up with an oily pool gathered at the bottom on the dish, which is never what you want. It will ultimately happen to any homemade Mac & Cheese as it sits, and if reheated. If you like a classic baked mac & cheese (like the kind your grandma used to make) then this classic recipe is for you.
About Ina Garten's Overnight Mac & Cheese
As I mentioned, the Overnight Mac & Cheese recipe does not use a Roux. The flour used in the Roux can often thicken it too much and reduce it's cheesy factor, like in the case of a Bachemel in a Mousakka or in very traditional Italian Lasagna. By using only heavy cream and cheese, this result is a "wetter" style macaroni & cheese. If you like the consistency of stovetop Mac & Cheese but also enjoy a crunchy topping, this recipe is for you. However, the overnight version is more susceptible to breaking and needs to be served and eaten rather quickly to reduce breakage risk. (But don't worry- it won't stand a chance of sitting around too long!)
Which mac and cheese recipe is better?
Determining which is the better Mac & Cheese recipe is a question that is very difficult to answer. There are things I like about each, so in all honesty, one is not better than the other- they are just really different and you need to know why. I suppose the best way to describe it is that Ina's original Mac & Cheese version is more like a pasta casserole and Ina's Overnight Mac & Cheese version is more like a stovetop Mac & Cheese with a crumbly topping. The original may seem a little thicker and hold together a bit more, but the overnight is richer due to the heavy cream. (Sorry, you can't substitute low fat here or you won't get the same result.)
What is the best cheese for Mac & Cheese?
Ah, the age old question and debate over what cheese is best for mac & cheese! The important thing you need to know about when selecting a cheese or cheeses is that all cheese does not melt the same. The fat content and texture of a cheese influences how well a cheese melts.
Can't Go Wrong
Mozzarella (not fresh!)
Monterey Jack
Sharp Cheddar
Colby
Swiss
Hällerhocker (expensive but unforgettable!)
Use with Caution
Cheddar – avoid aged, hard cheddars
Gruyere – invest in good quality
Havarti
Provolone – choose soft, not aged
Fontina
Avoid at all Costs
Pre-Shredded Cheeses*
Fresh Mozzarella
Feta Cheese
Goat Cheese
Brie
Hard Aged cheeses
*Pre-shredded cheeses may seem convenient, but contain anti-clumping additives to keep the shreds separate so they don't stick together in the package. This carries over to the food and impacts their melting ability and reduces the stringy, stretchiness we are looking for in a great mac & cheese. Therefore, you must grate your own. Tip: Shred the cheese a day before so you have less to do!
Q & A about Mac & Cheese
Q- Can you make mac and cheese the night before?
Absolutely! Both versions of the featured Mac & Cheese recipes here can be made the day before, taken out of the fridge an hour before baking, cooked and serve! This allows you to make the mess the day before and really enjoy it yourself.
Q- How do you store mac and cheese overnight?
It is best not to store and reheat cooked mac & cheese. It is best consumed fresh or made in advance and then baked to order. However, if you must, let it cool, cover and refrigerate. Reheat low and slow.
Q- How do you reheat Mac & Cheese
Reheating Mac & Cheese can be tricky because it will almost certainly break and loose all the melty cheesiness we love. The only way to bring it back to its former glory is low and slow. This can be done most successfully using the double broiler approach, and I have also had positive results for larger quantities using a slow cooker on warm and very low.