Everyone loves shrimp cocktail! But let's face the facts- it's overly popular and most of the time, not very flavorful. Mexican shrimp cocktail on the other hand is jam packed with flavor! It's cold, crisp and damn delicious!
This is such a great dish to serve in the summer when everyone really appreciates a cold, refreshing seafood dish. The tomato sauce is tangy, the cucumbers are crisp and crunchy and the shrimp are briny and meaty. It may just be the perfect combination of flavors and textures of any dish. Every bite is unique and equally as delicious.
I like to serve this Mexican Shrimp Cocktail as an appetizer, along with fresh guacamole and a pitcher of cold margaritas. Seriously, who wouldn't love to kick off an afternoon BBQ with that?!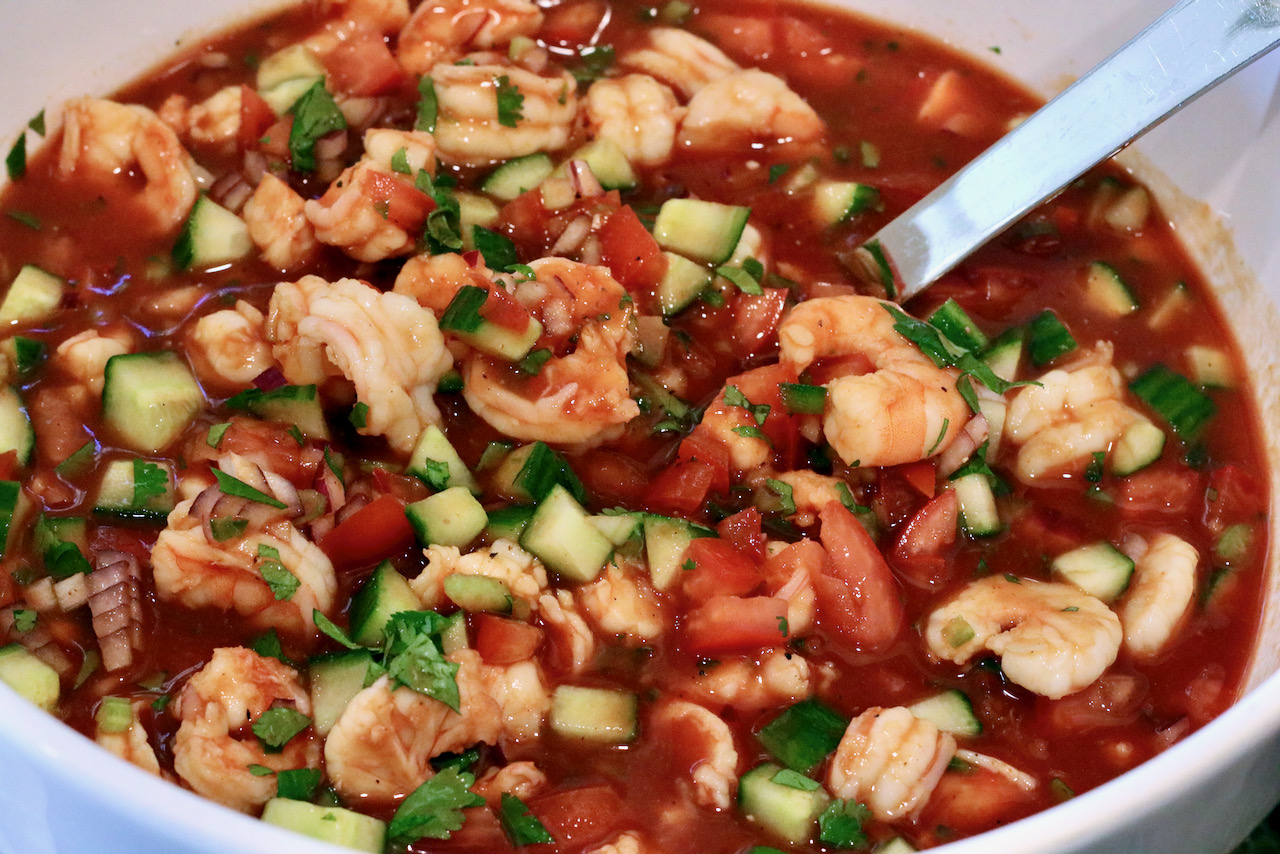 About sourcing Shrimp
The quality of shrimp that is most readily available mostly comes from shrimp farms in Asia or Latin America. I encourage you to read the back of the bags most frozen shrimp come in to see the list of chemical solutions the shrimp are preserved in. Personally, I cannot pronounce most of them. In addition to being raised in overcrowded pens, the shrimp are fed poor quality feed and antibiotics. All of which end up in our food supply.
It is very important to note that these farmed shrimp are what you commonly are sold by your fish shop or food store behind the counter, and almost always what you are served in restaurants. The source of shrimp are rarely advertised to the buyer or diner. Be sure to ask if the shrimp are farmed or wild. Additionally, never ever be fooled by the term "sustainably sourced" as it means absolutely nothing beneficial to the consumer. I recommend doing some independent research and trying to source quality, wild shrimp whenever possible.
Feaster's Tips:
You can make this dish a few hours ahead, but not too many. I recommend letting it chill for about an hour before serving if possible. However, don't add the avocado or cilantro until right before serving.
This dish is low calorie, low fat, low carb and Gluten free! (Winning!)