Welcome to Penne Perfection.
Simply put, this is the best Penne alla Vodka recipe I have ever tried. It is creamy, luscious, bursting with flavor and just a pinch spicy. It's extremely craveable, it's addicting, and you will eat too much. You will also be thanked profusely by your friends, family, guests or whomever you are cooking for. And you will be asked to make it again. Trust me on this- look no further. This is penne perfection.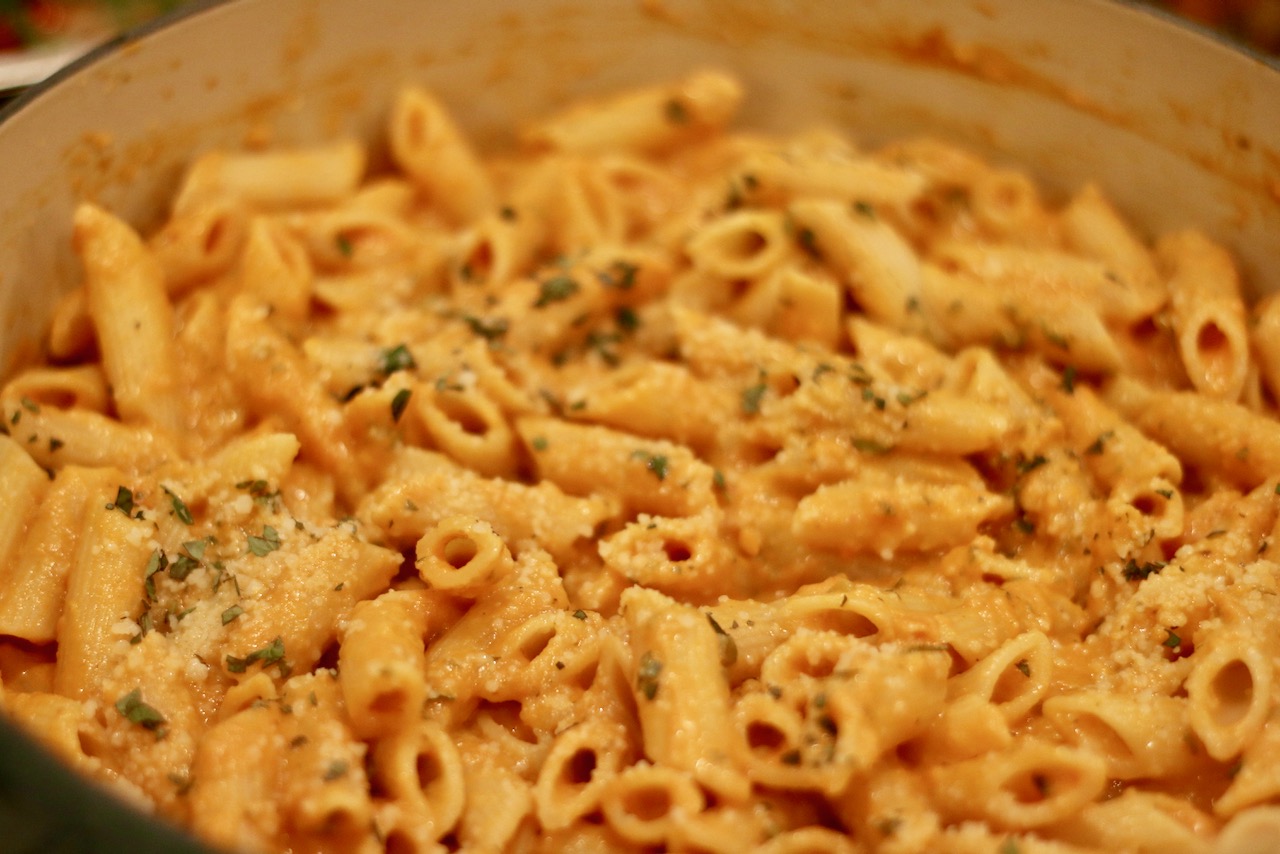 Good Vs. Bad
Too often our experience with this Italian-American pasta dish is at a party, where it was made hours earlier by a catering deli or pizzeria, and served out of a steam tray. It often is made way too early or reheated and then we see the cream "break" which means it gets oily. Occasionally it will be made with flour or a roux to help resist the breaking and keep it thick- this isn't the right thing to do. Sometimes Penne all Vodka will include sautéed onions and/or prosciutto, and even peas. Then there are the versions that don't even get made with vodka- a main ingredient! This recipe is not that. This is the "real" recipe for Penne alla Vodka and it will ruin the catering version for you for the rest of days!
The Secret to the Sauce
The secret to this recipe is roasting the sauce in the oven for over an hour to develop deep flavors for the sauce base. This is a very different approach than most sauces which are made only on the stovetop. However, once you do it you will understand that the roasting makes a significant difference in the depth of flavor.
Helpful Tips:
This recipe can be made in advance by 1-2 days, up until the last step where you reheat slowly and add the cream and parmesan cheese. It can also be made and frozen up until the last steps as well.
This recipe doubles well.
This recipe is about the tomatoes, so don't skimp on quality when choosing your canned tomatoes. Buy San Marzano if possible.
Recommended Ingredients & Equipment: