Sausage and Peppers is a delicious, easy to make Italian-American dish that many of us are familiar with. However, when I discovered the Ina Garten recipe for Roasted Sausage and Peppers in her cookbook, Modern Comfort Food, it changed everything! With just a few twists on the classic version, this dish goes from "basic" to "dinner party worthy."
Old School vs New School
Growing up in the Italian-American household that I did, I can recall my mother or aunt standing at the stove for what felt like hours pan frying each sausage. The dish was made mostly on the stove top and Oh!, what a mess it would make! The whole kitchen had a grease lick on it when they were done making "old-school" sausage and peppers. The tradition continues when I started cooking of standing over the stovetop, but it turns out, there is simply no reason to waste the time, or mess, to make them on the stove top when roasting yields better results in a truly delicious dish.
What makes this Roasted Sausage and Peppers recipe so special? The twist on Ingredients.
These independently simple ingredients of sausage, peppers and onions are a winning combination without much else. However, with the addition of just a few more ingredients, the results are simply outstanding.
You can use spicy or sweet Italian sausage, or a combination. (Spicy always wins in our house!)
The Ingredients set this recipe apart
This recipe includes the addition of poblano peppers mixed with colorful red, yellow and orange bell peppers which adds depth of flavor and brightens the dish. Additionally, thinly sliced fennel is included with the other vegetable and adds a gentle sweetness. The vegetables are then tossed with extra virgin olive oil, oregano and seasoning and then roasted. After the initial vegetable roasting, the sausage is added on top of the vegetables where the flavors from the sausage seep into the vegetables, getting toasted occasionally. Finally, adding a touch of white wine, cherry tomatoes, basil and parmesan take this Roasted Sausage & Peppers recipe all the way to the top.
Pro tip:
Don't over crowd the vegetables on initial roasting or they will steam rather than roast. Instead, use as many sheet pans as necessary to spread out the vegetables. Then, combine into a single pan and continue the recipe steps. (It's worth the effort.)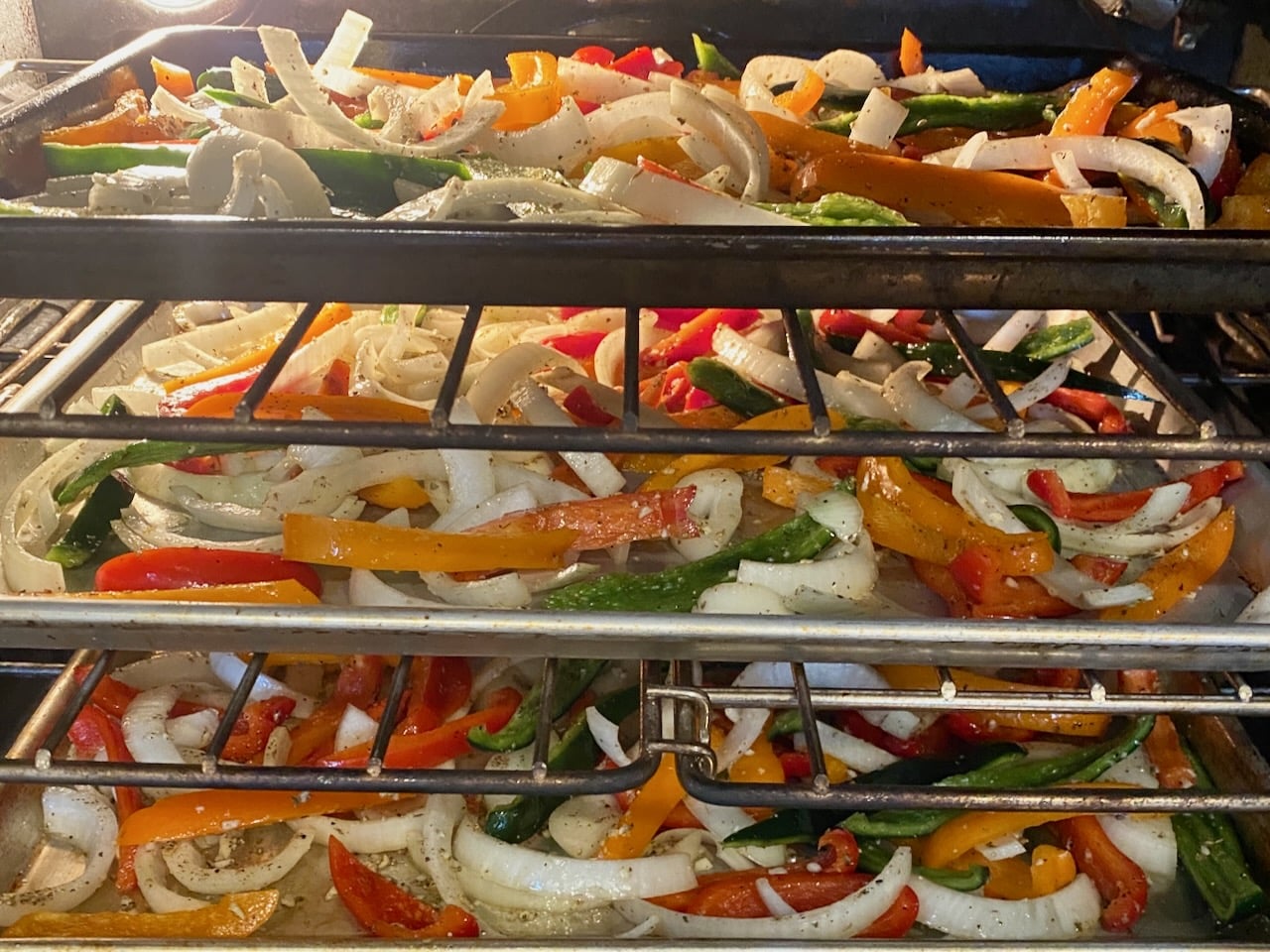 Popular Questions about Sausage & Peppers
Q- Can I make Sausage & Peppers in advance?
Yes! Roasted Sausage & Peppers can be made in advance. Cook entirely except for adding the basil (if using). Let cool completely and the refrigerate up to 48 hours. Reheat in the oven at 400°F. You can also freeze Sausage and Peppers and it reheats very well.
Q- What goes well with Sausage and Peppers?
If serving Sausage and Peppers for a sit down meal, serve with a pasta such as penne all vodka. Sausage and Peppers also goes well with rice or mashed potatoes. If serving to a party or in a casual environment, serve with club roles on the side and let everyone make their own Sausage & Pepper sandwich.
Q- How do I reheat Sausage and Peppers?
Preheat oven to 400°F and heat covered for about 20-25 minutes or until hot.