Anyone who knows me knows without questions that I am an Ina Garten fan. Correction- I am a mega fan. Not a day goes by that Ina isn't on my mind. I ask myself constantly, "WWID?" She is my culinary soul mate. She just doesn't know it it.
I own every single one of the Barefoot Contessa cookbooks and they are my prized possessions. I never get tired of flipping through them. Ever.
The reason why I am so loyal to Ina and her cookbooks is because they are reliable. Period. I have made countless recipes of hers. No, seriously, I mean actually countless. I tried to count and lost track. There are maybe one or two that didn't come out as good as I had expected. But zero have actually disappointed me. Additionally, Ina's cookbooks feature incredible pictures that don't just inspire me, but they are real. When I follow her recipe it actually comes out looking just like the picture. See below are decide for yourself:
Ina Garten's Modern Comfort Food Recipe pictures compared to mine.
---
So when her latest cookbook, Modern Comfort Food, was released in October 2020, I was one of the first to order it.
When it first arrived I was excited as ever! I couldn't wait to sit down with a glass of wine and my stack of post-its, and go slowly, page by page, reading each recipe, the notes, and get inspired by the pictures.
I'll be honest. My first time looking it over, I wasn't so impressed! Looking back I'm not sure why. I thought I wouldn't want to make too many of the featured recipes in Modern Comfort Food. Well, I was wrong because guess what happened next? I started cooking. And I couldn't stop. And dare I say it, but it may be her best cookbook yet. It is a fantastic cookbook and I am obsessed.
It started with the sausage & peppers. Which I have now made twice in two weeks. Then onto the Cauliflower with lemon and capers which is now my absolute favorite way to make cauliflower. Then, although I have made both before, a re-visit & rekindled love for Ina's homemade caesar dressing & green salad vinaigrette.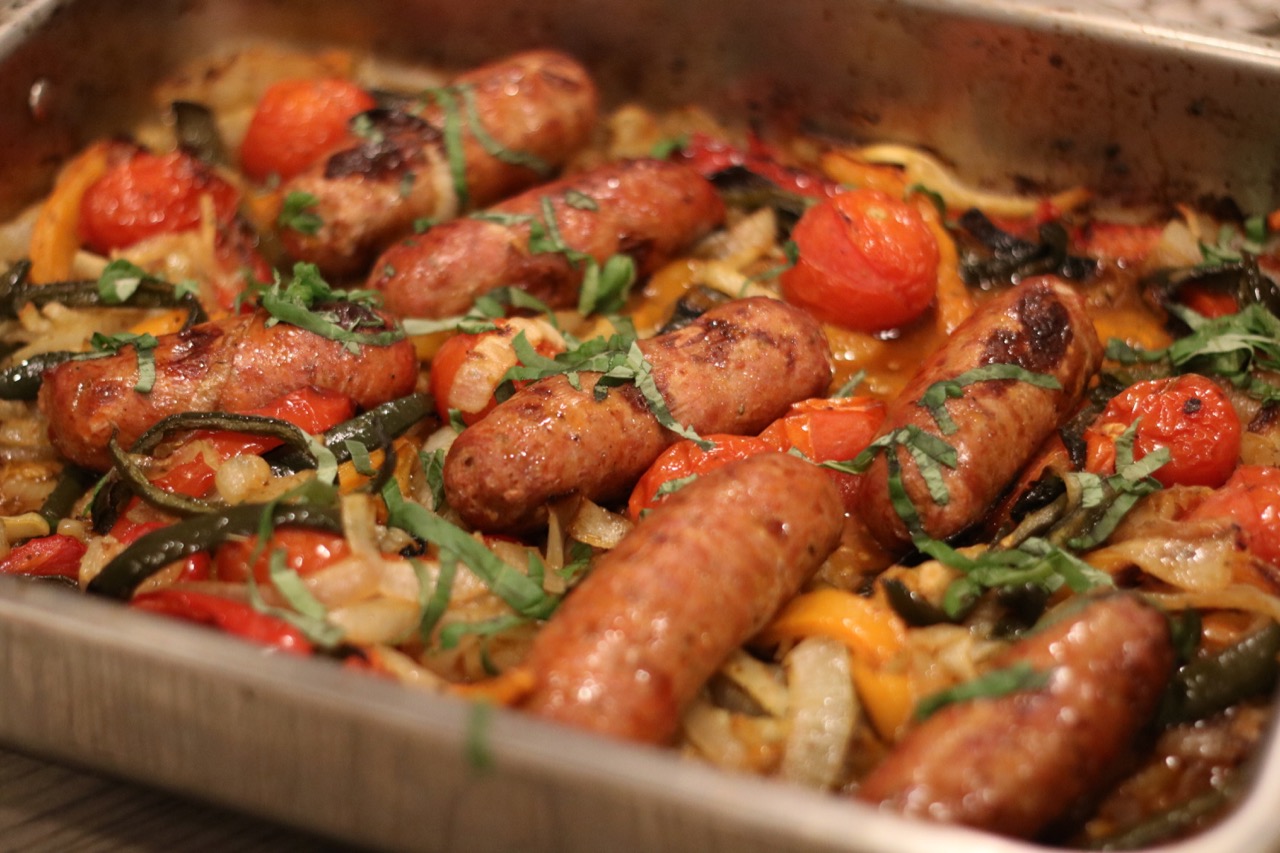 Next came smashed eggs over toast, and the creme de le creme… the creamed spinach with baked eggs.
It didn't stop there. I made the Baked Cod with garlic & ritz crumbs, ultimate tuna melts and creamy tomato soup.
I kept cooking. I made the grilled oysters with lemon dill butter (I roasted them- Shhhh! Don't tell Ina.) I made the fig & cheese toasts and the potato galettes with smoked salmon.
Every single recipe has impressed me. I don't know how she does it. Ina Garten has a impeccable palate, a way of making seemingly difficult recipes approachable, and her recipes can be counted on.
In each of Ina's cookbooks she offers tips, stories and recommended products. In Modern Comfort Food she included some of her favorite staple ingredients. And contrary to what some may think about her cooking being "too fancy", the ingredients are actually quite basic and include things like DeCecco pasta, Goya chipotle peppers in Adobo sauce, and Hellman's Mayo. She has done her homework, so it's best just to trust her recommendations and buy what Ina does. I do!
I highly recommend this cookbook if you are looking for new inspiration, new skills and recipes you can really rely on. I have no doubt that within the next two months I will have made just about every recipe featured in the Modern Comfort Food Cookbook. I confidently give it 5 stars!
I'm off to the kitchen… Ina's Penne Vodka is on the menu! (Recipe from the Foolproof Cookbook.)