The best Fish and Chip recipe
Anyone who is a true Fish and Chip lover knows that when ordering it out, disappointment is more common than satisfaction. It can almost become an obsession trying it over and over again, seeking out that perfect, crunchy bite that rarely is found. This beloved English classic has lost its way here in America, and has gone all wrong. But I was determined to figure out how to make it right.
Fish and Chip batter
The best Fish and Chip recipe starts with a good, strong batter. The batter's job is to encapsulate the fish to form a crust, allowing the fish to steam within the crust and never crack. If the batter is done well, no oil will ever penetrate the batter and have direct contact with the fish's flesh. (When that happens, you get greasy, soggy fish.)
The batter mixture should be thin, yet tacky enough to cling to the fish. It needs seasoning, but not so much that it over powers the delicate flavor of the cod, or other white fish.
Once cooked, the batter should be crispy, thin and crunchy. It should stick to the cooked fish when cutting through it, and not pull off and separate from the fish.
It should never, ever, ever be soggy or greasy.
And after testing a wide variety of recipes, watching videos, and reading countless articles on the history of fish and chips, I finally found a great recipe the produces the perfect results. If you can follow directions, you can make these fish & chips.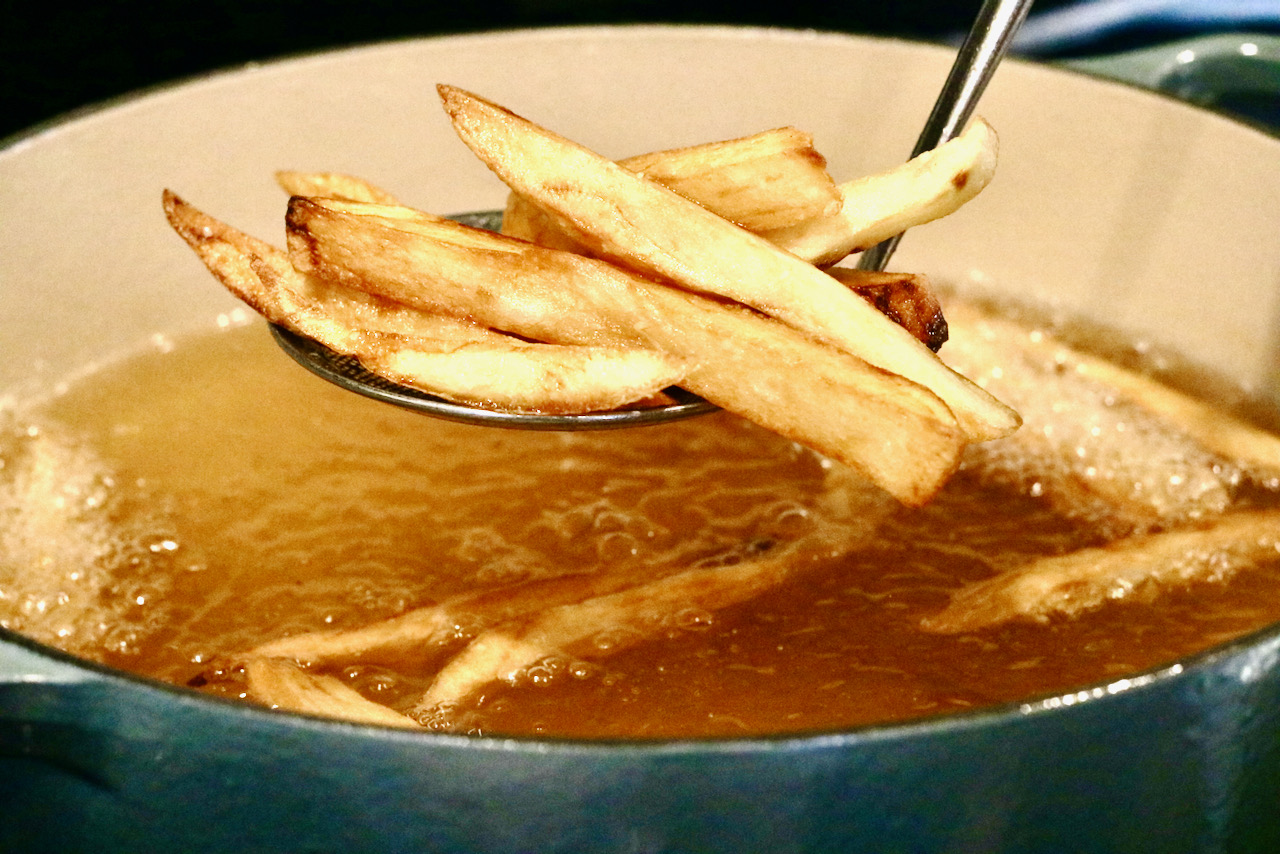 The Chip Recipe
I found my now treasured fried fish recipe in the America's Test Kitchen archives, and while their fish recipe is great, the chip recipe was not up to my standards. They cook their potatoes in the microwave and this is far (very far!) from traditional. This is not what I was looking for when seeking a traditional fish & chip experience. I prefer to make my chips just as I was taught from my husband's english grandmother, Gladys, who has been frying her potatoes this way for over 90 years. Why mess with perfection?